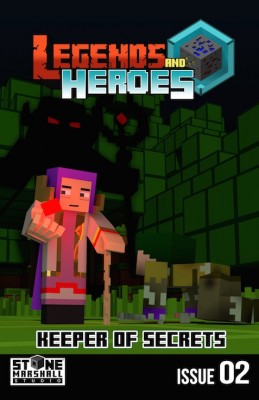 $0.99 eBook, $9.99 paperback
According to Minecraft Lore...
Get the book
Available in eBook and Paperback Click a "Buy Now" button below corresponding to your device. Get notified when Legends & Heroes is out! Subscribe to updates below.
About the Book
More of Legends & Heroes COMING SOON!
Subscribe to be notified when new Issues are released and get updates and bonuses!
Legend has it that a millennia ago, there was an unspeakable power held within the Stone of Bregu. This ancient jewel was broken and its pieces were scattered across the cube. Stories tell of shards being recovered. Their wielders gain incredible power—but it is a personal power that does not replicate: no two people have exactly the same ability. Every shard offers a glimpse into the Bregu's all-consuming power. Some say there is only one who is destined to reunite the shards and use the strength found within the Stone of Bregu to create balance in the world. Many Heroes have considered it their destiny, though few have had any luck in finding more than a single shard.
Gwen was once one of the most powerful Heroes in the realm, but as she grows older her strength wanes. When a troubled stranger presents her with the missing shard of Bregu—and the opportunity of a lifetime—age becomes . . . less of a concern. Power corrupts even the purest of minds, and Gwen holds the source of utmost power. In a twist of fate, she might find that her destiny lies in the dark magic she once held at such a careful distance from her heart.
Other Book list in "Legends & Heroes Minecraft Comic Books (Individual Issues)"