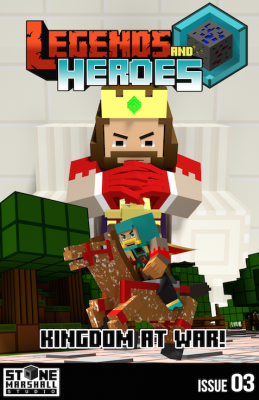 $0.99 eBook, $9.99 paperback
The warning bells are ringing. The monsters are back!
Get the book
Available in eBook and Paperback Click a "Buy Now" button below corresponding to your device. Get notified when Legends & Heroes is out! Subscribe to updates below.
About the Book
More of Legends & Heroes COMING SOON!
Subscribe to be notified when new Issues are released and get updates and bonuses!

Danger stirs in the shadows beyond the borders. Monsters attack the outer settlements, reaching farther into the kingdom. They are greater in number and stronger than ever before.
A Royal Knight, Gavin, has been called to ensure the caravan's safety.  Each wave of monsters wears away at their supplies and, perhaps even more dangerous, their hope. A mysterious material, Quicksilver, could save the kingdom—if only it could be forged! Gavin must find a blacksmith who can turn the Quicksilver into a weapon before the forces of darkness can take hold of the kingdom.
It is said that Quicksilver has magical properties: it is harder than diamond and immune to any blow. To survive the coming war, the Royal Guards will have to be just as strong.
Other Book list in "Legends & Heroes Minecraft Comic Books (Individual Issues)"