Free book for boys and reluctant readers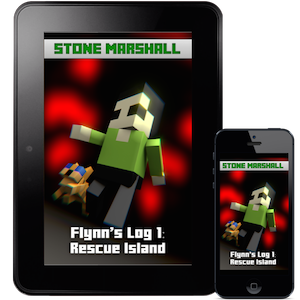 Get Reluctant Reader Book News from Stone Marshall
Reading is important
Any book that helps a child to form a habit of reading, to make reading one of his deep and continuing needs, is good for him. –Maya Angelou
Most adults would agree that reading is important, but many kids detest reading. Video games, devices, and TV are preferred entertainment and escape. They provide instant gratification. Reading takes time. For some kids, reading isn't engaging.
I had this same problem with my son, so I solved the problem.
The classic stories I remember enjoying as a kid don't interest my son and his immediate attention span. If he doesn't enjoy the story from page one, he will not read further.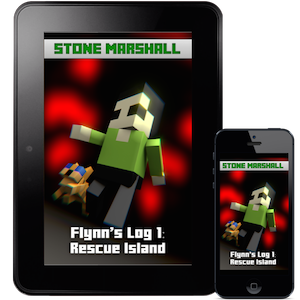 So how did I get my son to read?
I showed him how much fun it is to get sucked into a story.
Your book is amazing I can't stop reading it – Joseph Young via twitter
Contemporary and Classic titles alike don't interest many kids. Don't worry, the love of reading is learned. We need a starting point. We need that one book that is just as engaging on the first read as the fifth, just like a really great movie that kids want to see again and again. A positive association with reading will make kids want to read more.
A love of reading is cited as the number one indicator of future success. My son didn't have the desire to read. He didn't care about the books I chose to read to him, and was overwhelmed with the selection at the library. I want my son to succeed, so I had to do something. Since we struggled to find books he cared to read, I wrote one. An epic saga about the things he loves. I put it in a world he loves and addressed the issues he faces in his life.
I just love your books I've been reading them over and over again. -Carson via twitter 
But it's a video game book
Don't worry; it's not a book about video games, nor is it a game strategy book. Flynn's Log is a hero's journey that takes place inside the Minecraft world that today's kids know and love. The protagonist, Flynn, naturally flows through Maslow's hierarchy of needs (builds shelter and tools, learns what to eat and discovers a digital friend) and faces questions about his destiny. He learns important life lessons about friendship, integrity, and trust. Flynn's Log is good for kids without being boring.
Thank you so so much for the free ebook. My son loves Minecraft now with this book I can get him to read to me. – Jennifer Wilkins
Start your son or daughter on journey today, reading Flynn's Log 1: Rescue Island. Free on available these devices and apps.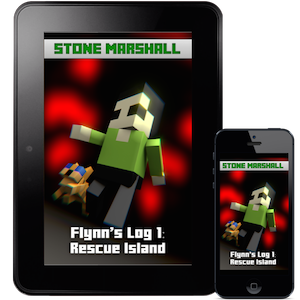 Why is Flynn's Log 1 Free?
My son loves reading — finally. If you have experience with a reluctant reader then I know your pain and I want to help. I've seen thousands of kids transform with this book. My readers, who don't usually read books during the summer, couldn't put Flynn's Log 1 down.
Good book I thought I would never read a book on my summer but I feel I'm gonna finish it soon – Multigamer 47 via twitter
Let this book change your kid's life too. You have nothing to lose and an avid reader to gain.
Once you learn to read, you will be forever free.

–Frederick Douglas
I am giving away Flynn's Log 1 free because I want to give you a risk-free way to hook your reluctant reader.
Please and I mean PLEASE, WRITE MORE! I absolutely love it! They're outstanding books.

-Devon123321 via twitter
What are Books for Boys?
I spend lots of time with teachers and parents. I hear parents ask, "How do I get my son to read? Do you have books for boys?"
I wrote the Flynn's Log series for my son, and this book is interesting for boys. However, the series is a non-stop read for both boys and girls, especially those who are interested in Minecraft.
The more that you read, the more things you will know. The more that you learn, the more places you'll go.

—Dr. Seuss
What are you waiting for?
You have nothing to lose!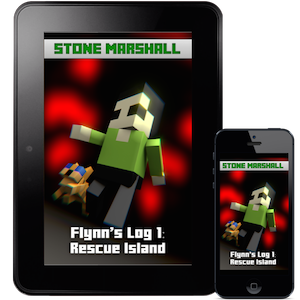 News for Parents of Reluctant Readers
Get Reluctant Reader Book News from Stone Marshall
The oddest cameo in Avengers: Endgame isn't from Stan Lee or co-director Joe Russo. The cameo by Fortnite, the popular online battle royale game, is the one with the biggest ramifications for the Marvel Cinematic Universe. And that's because it raises an awkward question: does Fortnite's Thanos mode also exist in the Avengers universe? And if so, what does that mode look like in a post-Snap world?
The limited-time Thanos game mode shook up the traditional Fortnite formula, forcing players to team up to fight against the super-powered, Infinity Gauntlet-wielding Mad Titan. Yes, Fortnite's Thanos mode, and the subsequent Avengers: Endgame mode that succeeded it this year, are marketing tools for our universe's Avengers movies, which probably don't exist in the Marvel world, unless there are some very, very dedicated documentarians out there.
But we do know from Infinity War that Avengers-branded tie in products exist: in Avengers: Infinity War, Doctor Strange and Wong reference Stark Raving Hazelnuts and Hunka-Hulk-a Burning Fudge flavors of Ben & Jerry's Ice Cream, implying that this kind of licensed tie-in is fairly commonplace in the Marvel world. And Spider-Man: Homecominghas shown that these heroes are essentially celebrities, so the possibility of an Avengers video game tie in is at least within the realm of possibility.
Still, we need to address the logistics of how Fortnite exists in a post-Snap world, let alone how it's still so popular five years after the Snap (so in 2023, six years after it launched in our world) that Thor and Korg can matchmake with opponents easily, despite connecting from the extremely rural town of News Asgard / Tønsberg, Norway.
After the Snap, we're told that the world plunged into chaos for a time: governments, armed forces, doctors, first responders, and so forth have all been halved. But that may explain Fortnite's ongoing popularity: even after the world returns to something resembling equilibrium, the number of video game developers, producers, directors, marketing teams, etc. would also have been halved. Worldwide chaos and internal company chaos would have both dramatically slowed down new releases. Halving the player base also means fewer potential sales, which would hurt the bottom line for gaming companies as well — giving them every reason to lean hard on expanding existing popular products instead of focusing on new ones.

So updating and maintaining servers for a free-to-play game like Fortnite would be a viable long-term plan to keep the lights on at a game studio. The entire video gaming world likely saw a condensing post-Snap, but that reduced player base would also explain why Korg apparently keeps running into the same annoying "Noobmaster69" opponent, which is unlikely in our world's version of the game, given the larger player pool and the random matchmaking system.IN A POST-SNAP WORLD, FORTNITE STILL SURVIVES
But does the average person even know Thanos exists? For those who weren't on the battlefield in Wakanda with the Avengers, it would have been tough to immediately know what caused the Snap, and "genocidal purple space tyrant" probably wasn't on most people's list. Still, in Endgame, both Captain America and Ronin reference Thanos to non-Avengers — Cap at his support group, and Ronin when hunting down gangsters in Japan — so it seems the heroes have shared the news about him with the general populace.
But still, would there be a Thanos mode in the MCU version of Fortnite? It's hard to see Epic Games developing one, given that Thanos is the worst mass murderer ever to exist within the Avengers' world, and putting him in a video game as a playable character whose sole goal is to wipe out everyone else on the map would no doubt be the height of cultural insensitivity. (Plus, they would have had to develop it post-Snap.)

Then again, video game studios aren't always known for making the best decisions, and it's possible that a Thanos mode could still exist in the MCU's Fortnite — but likely in a very different style. While our universe's Thanos gamemode is almost comically distasteful in an MCU context, it's possible that a more cathartic mode — for instance, where players could work together to exact some sort of fantastical revenge on the universe's greatest villain — could exist at some point. In the same way own modern games — like the Call of Duty series, which have made an artform of cashing in on human tragedies like World War II — draw on real-world atrocities for video game plots.
Still, if there was a Thanos mode in the MCU, Korg probably wouldn't play it in Endgame. At least not while Thor's around, given howsensitive Thor is about hearing the Mad Titan's name. Then again, that's what headsets are for.