Free book for boys and reluctant readers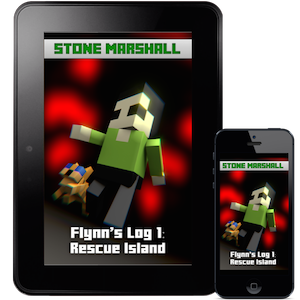 Get Reluctant Reader Book News from Stone Marshall
Reading is important
Any book that helps a child to form a habit of reading, to make reading one of his deep and continuing needs, is good for him. –Maya Angelou
Most adults would agree that reading is important, but many kids detest reading. Video games, devices, and TV are preferred entertainment and escape. They provide instant gratification. Reading takes time. For some kids, reading isn't engaging.
I had this same problem with my son, so I solved the problem.
The classic stories I remember enjoying as a kid don't interest my son and his immediate attention span. If he doesn't enjoy the story from page one, he will not read further.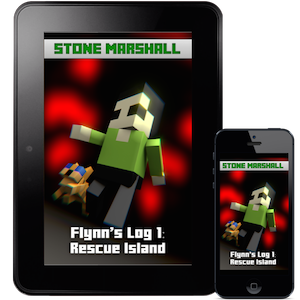 So how did I get my son to read?
I showed him how much fun it is to get sucked into a story.
Your book is amazing I can't stop reading it – Joseph Young via twitter
Contemporary and Classic titles alike don't interest many kids. Don't worry, the love of reading is learned. We need a starting point. We need that one book that is just as engaging on the first read as the fifth, just like a really great movie that kids want to see again and again. A positive association with reading will make kids want to read more.
A love of reading is cited as the number one indicator of future success. My son didn't have the desire to read. He didn't care about the books I chose to read to him, and was overwhelmed with the selection at the library. I want my son to succeed, so I had to do something. Since we struggled to find books he cared to read, I wrote one. An epic saga about the things he loves. I put it in a world he loves and addressed the issues he faces in his life.
I just love your books I've been reading them over and over again. -Carson via twitter 
But it's a video game book
Don't worry; it's not a book about video games, nor is it a game strategy book. Flynn's Log is a hero's journey that takes place inside the Minecraft world that today's kids know and love. The protagonist, Flynn, naturally flows through Maslow's hierarchy of needs (builds shelter and tools, learns what to eat and discovers a digital friend) and faces questions about his destiny. He learns important life lessons about friendship, integrity, and trust. Flynn's Log is good for kids without being boring.
Thank you so so much for the free ebook. My son loves Minecraft now with this book I can get him to read to me. – Jennifer Wilkins
Start your son or daughter on journey today, reading Flynn's Log 1: Rescue Island. Free on available these devices and apps.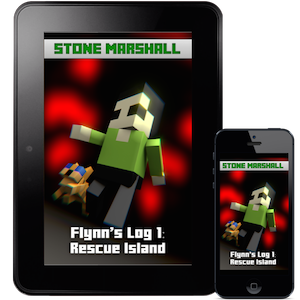 Why is Flynn's Log 1 Free?
My son loves reading — finally. If you have experience with a reluctant reader then I know your pain and I want to help. I've seen thousands of kids transform with this book. My readers, who don't usually read books during the summer, couldn't put Flynn's Log 1 down.
Good book I thought I would never read a book on my summer but I feel I'm gonna finish it soon – Multigamer 47 via twitter
Let this book change your kid's life too. You have nothing to lose and an avid reader to gain.
Once you learn to read, you will be forever free.

–Frederick Douglas
I am giving away Flynn's Log 1 free because I want to give you a risk-free way to hook your reluctant reader.
Please and I mean PLEASE, WRITE MORE! I absolutely love it! They're outstanding books.

-Devon123321 via twitter
What are Books for Boys?
I spend lots of time with teachers and parents. I hear parents ask, "How do I get my son to read? Do you have books for boys?"
I wrote the Flynn's Log series for my son, and this book is interesting for boys. However, the series is a non-stop read for both boys and girls, especially those who are interested in Minecraft.
The more that you read, the more things you will know. The more that you learn, the more places you'll go.

—Dr. Seuss
What are you waiting for?
You have nothing to lose!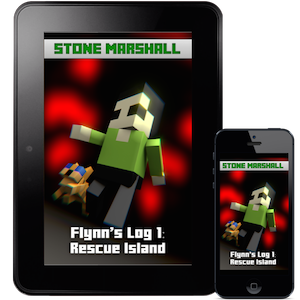 News for Parents of Reluctant Readers
Get Reluctant Reader Book News from Stone Marshall
Mountains! Badlands! Swamp?
This Saturday marks the return of Minecon, Mojang's annual Minecraft convention – which has, of course, been an entirely digital affair for the last few years. As part of the event, players are being given the chance to vote on the Minecraft biome they want to see overhauled next.
There are restrictions, however; Mojang has identified three specific biomes that it feels are most in need of attention – the swamp, mountains, and badlands – and says that its revamp plans would introduce new mobs, features, and mechanics to the selected area. To further assist players in making an informed decision, the developer has released a video detailing a few more specifics on what each potential upgrade will include.
An enhanced mountain biome, for instance, will see "snowier" snow, a new goat mob, and environmental enhancements introducing the likes of "jagged cliffs, snow-capped peaks, and more dramatic views", as outlined below.
Planned updates for the swamp, meanwhile, include a new boat – replete with a built-in storage chest for easy transportation of resources – a new frog mob, and some more visual diversity thanks to the addition of the mangrove tree. Last up, then, are the badlands, which will receive tumbleweeds, new cactus types, and a vulture mob as part of its update.
If that all makes for too much of an impossible choice, the good news is that Mojang says all three biomes will see their improvements implemented eventually. Saturday's vote will decide exactly which gets the TLC treatment first.
Voting will occur during Minecon Live this Saturday, 28th September. Proceedings, which promise to deliver "surprises, exclusive reveals, [and] post-show panels", get underway at 5pm in the UK/12pm EST, and can be watched via Twitch, Mixer, Facebook, and YouTube.
Sometimes we include links to online retail stores. If you click on one and make a purchase we may receive a small commission. For more information, go here.