Free book for boys and reluctant readers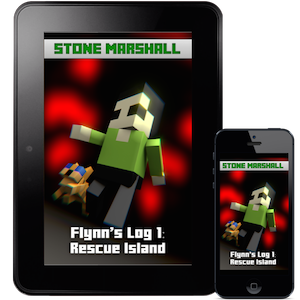 Get Reluctant Reader Book News from Stone Marshall
Reading is important
Any book that helps a child to form a habit of reading, to make reading one of his deep and continuing needs, is good for him. –Maya Angelou
Most adults would agree that reading is important, but many kids detest reading. Video games, devices, and TV are preferred entertainment and escape. They provide instant gratification. Reading takes time. For some kids, reading isn't engaging.
I had this same problem with my son, so I solved the problem.
The classic stories I remember enjoying as a kid don't interest my son and his immediate attention span. If he doesn't enjoy the story from page one, he will not read further.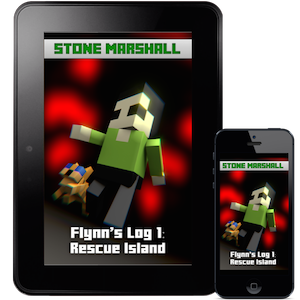 So how did I get my son to read?
I showed him how much fun it is to get sucked into a story.
Your book is amazing I can't stop reading it – Joseph Young via twitter
Contemporary and Classic titles alike don't interest many kids. Don't worry, the love of reading is learned. We need a starting point. We need that one book that is just as engaging on the first read as the fifth, just like a really great movie that kids want to see again and again. A positive association with reading will make kids want to read more.
A love of reading is cited as the number one indicator of future success. My son didn't have the desire to read. He didn't care about the books I chose to read to him, and was overwhelmed with the selection at the library. I want my son to succeed, so I had to do something. Since we struggled to find books he cared to read, I wrote one. An epic saga about the things he loves. I put it in a world he loves and addressed the issues he faces in his life.
I just love your books I've been reading them over and over again. -Carson via twitter 
But it's a video game book
Don't worry; it's not a book about video games, nor is it a game strategy book. Flynn's Log is a hero's journey that takes place inside the Minecraft world that today's kids know and love. The protagonist, Flynn, naturally flows through Maslow's hierarchy of needs (builds shelter and tools, learns what to eat and discovers a digital friend) and faces questions about his destiny. He learns important life lessons about friendship, integrity, and trust. Flynn's Log is good for kids without being boring.
Thank you so so much for the free ebook. My son loves Minecraft now with this book I can get him to read to me. – Jennifer Wilkins
Start your son or daughter on journey today, reading Flynn's Log 1: Rescue Island. Free on available these devices and apps.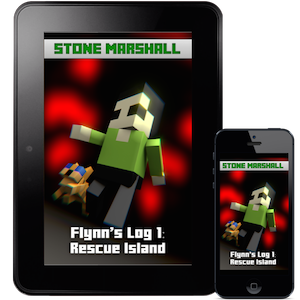 Why is Flynn's Log 1 Free?
My son loves reading — finally. If you have experience with a reluctant reader then I know your pain and I want to help. I've seen thousands of kids transform with this book. My readers, who don't usually read books during the summer, couldn't put Flynn's Log 1 down.
Good book I thought I would never read a book on my summer but I feel I'm gonna finish it soon – Multigamer 47 via twitter
Let this book change your kid's life too. You have nothing to lose and an avid reader to gain.
Once you learn to read, you will be forever free.

–Frederick Douglas
I am giving away Flynn's Log 1 free because I want to give you a risk-free way to hook your reluctant reader.
Please and I mean PLEASE, WRITE MORE! I absolutely love it! They're outstanding books.

-Devon123321 via twitter
What are Books for Boys?
I spend lots of time with teachers and parents. I hear parents ask, "How do I get my son to read? Do you have books for boys?"
I wrote the Flynn's Log series for my son, and this book is interesting for boys. However, the series is a non-stop read for both boys and girls, especially those who are interested in Minecraft.
The more that you read, the more things you will know. The more that you learn, the more places you'll go.

—Dr. Seuss
What are you waiting for?
You have nothing to lose!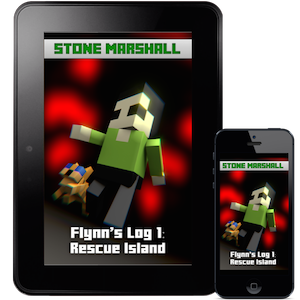 News for Parents of Reluctant Readers
Get Reluctant Reader Book News from Stone Marshall
UPDATE, writethru: Sony/Marvel's Spider-Man: Far From Home came swinging into China, Japan and Hong Kong this weekend to nab an early $111M at the international box office. The launch sets the webslinger 45% over Spider-Man: Homecoming and 21% above Captain Marvel in the like-for-likes. The opening result is slightly higher than what the industry was seeing pre-weekend, which then increased as the markets saw strong play-through.
China was robust at $98M for the No. 4 all-time superhero bow behind Disney/Marvel's Avengers: Endgame and Avengers: Infinity War, and Sony/Marvel's Venom. Social scores are strong in the Middle Kingdom and next weekend sees little in the way of competition with local movie The Eight Hundred off the release schedule. Currently, FFH is above Homecoming by 46% and Captain Marvel by 17% in the market where the webbed wonder excels.
Japan is also a big hub for the character and welcomed the Tom Holland follow-up with the 2nd best superhero debut of the last decade (behind Endgame). In Hong Kong, European vacation Spider-Man flew in with the 5th biggest FSS opening of all time and the best ever for a standalone superhero movie as well as Sony's top launch ever.
There's joy on the Culver City lot today as the early dates rep a strong start for Far From Home, which picks up after the events of Endgame. The Hong Kong bow offers a taste of how South East Asia is expected to respond when Spidey gets there later this week, and the current percentage increases over Homecoming and Captain Marvel are encouraging. The fact that the movie will land in Europe when the weather has returned to regular summer temperatures after a stifling heatwave, is also a bonus.
The Jon Watts-directed Far From Home is primed for release throughout the rest of the world in the next frame. Australia goes tomorrow followed by a week-long rollout pattern that includes domestic. There is every possibility that FFH is in the $500M global neighborhood through next Sunday.
In other new play this session, Warner Bros/New Line's Annabelle Comes Homescared up $45M from 63 markets including No. 1s in 22. The latest in the doll series is tracking ahead of Annabelle (+6%) and The Conjuring (+55%) in like-for-likes. Globally, the start is $76.2M.

Danny Boyle's Beatles-inspired fantasy music romance Yesterday opened in 30 overseas markets this session, grossing $7.7M for a global debut of $24.7M. On a like-for-like basis, the Universal/Working Title pic is in line with Me Before You and above The Best Exotic Marigold Hotel (+18%), The Intern(+31%) and About Time (+67%).
In its sophomore frame, Disney/Pixar's Toy Story 4 added $80.6M from overseas for a $259.6M cume in 45 material markets repping 76% of the offshore footprint. The global cume, after just 11 days, is closing in on $500M and with several majors still to release. While a heatwave gripped France and other parts of Europe this weekend, TS4's regional drop was 37%.
Also from Disney, Aladdin's surprising performance continues with a cume now of $568.3M overseas and $874.M globally. Japan ($66.6M) and Korea ($60.2M) have been major standouts on the Will Smith-starrer. This weekend it reclaimed the No. 1 spot in the latter while overall, the international drop was just 30%.

In milestones, Lionsgate's John Wick: Chapter 3 – Parabellum shot past $300M worldwide with a strong start in Korea that came in 251% above the lifetime of John Wick: Chapter 2.
Disney/Marvel's Avengers: Endgame is now at $1.92B internationally for a global total of $2.76B which includes this weekend's Bring Back event at domestic and select offshore cinemas.
The next frame will be dominated by Far From Home, with ongoing rollout throughout the week. Beyond that, Disney's The Lion King is poised to roar into China early on July 12, one week ahead of domestic and other international markets.
In the meantime, breakdowns on the films above and more have been updated below.
NEW
SPIDER-MAN: FAR FROM HOME


Spider-Mania kicked off this weekend in three early markets with China, Japan and Hong Kong grossing $111M on 33,900+ screens. The start for the Sony/Marvel pic is above where the industry had it ahead of the weekend in what has been a challenging time at the box office, particularly in China. But first numbers out of the Middle Kingdom on Friday, along with strong social scores, propelled the webbed wonder to a promising debut that is 45% above Spider-Man: Homecoming and 21% over Captain Marvel, the standalone superhero movie that acts as the other bookend to Avengers: Endgame.
Signs point to Far From Home being in the $500M neighborhood through next Sunday when it will have the benefit of all other global markets save Italy which releases July 10.
The three-day China debut this weekend was $98M for the 7th best studio bow and the No. 4 all-time superhero launch behind Disney/Marvel's Avengers: Endgameand Avengers: Infinity War, and Sony/Marvel's Venom. This is Sony's 2nd best start ever in the market. Currently, FFH is above Homecoming by 46% and Captain Marvel by 17%.
Working in Far From Home's favor, beyond the built-in Middle Kingdom love there is for the character, are the social scores and word of mouth, as well as the fact that Better Days, a local movie that was expected to have great potential, was pulled off its June 28 date at the last minute last week. That this is also the first MCU title after Endgame in the Marvel-loving market is also a clear factor. Holland, Watts and Jake Gyllenhaal also visited Beijing pre-bow and were sporting in their promotional efforts.
Homecoming debuted in China in 2017, about two months after the majority of the world, and made $67M in its first weekend at today's rates. The Middle Kingdom final was $116.3M (unadjusted) and Far From Home will well exceed that. There was some early concern that Homecoming had less resonance with local audiences because the U.S. high school experience doesn't fully translate, but Far From Home is bucking that.
China was nevertheless the biggest overseas market on Homecoming as well as the previous two Spider-Man movies. It is also the top MCU hub with Endgame having taken in a staggering $629M there to become the highest-grossing import ever. Far From Home picks up following the events of Endgame as Spidey must step up to take on new threats in a world that has changed forever. Zendaya, Samuel L Jackson, Jon Favreau, Marisa Tomei, Jacob Batalon and Cobie Smulders also star.
Along with China, Japan took in an amazing $9.4M, making it the 2nd biggest superhero movie launch in the last decade behind only Endgame. There is another week of clear play ahead in Japan. Hong Kong kicked off its run with a 3-day total of $3.8M, which represents the 5th biggest FSS opening of all time, the best-ever for a standalone superhero film, and the best-ever for Sony.
In IMAX, FFH grossed $12.3M across the three debut markets. The $10.8M from 620 China screens set a new record for the franchise and for Sony as well as being the 4th best bow in the MCU.
In Japan FFH snared $1.1M from 31 screens for the top franchise opening, Sony's best and the all-time 5th best for the format. In Hong Kong, the film earned $300K from 5 screens, also a franchise and Sony best.
ANNABELLE COMES HOME


Gary Dauberman's feature directorial debut sent shivers to 63 overseas markets this weekend, collecting $45M on about 15,520 screens. The Warner Bros/New Line doll landed No. 1s in 22 of the debuts while there are still 17 markets to come in the next weeks. Including the domestic debut, the global launch is $76.2M.
So far, Annabelle Comes Home is running above the original Annabelle by 6% and over the original The Conjuring by 55%. Annabelle: Creation is the highest grossing in the scary doll series overseas with $204.4M unadjusted while The Nun leads the overall Conjuring universe at $248M.
In Asia, the opening weekend is tracking on par with The Conjuring 2, 31% over Annabelle and 80% over the original Conjuring. In Latin America, it's boasting the best opening of a horror title this year. And, in Europe/Middle East/Africa, the homecoming is about on par with Annabelle: Creation and above the other comps.
Mexico was the top launch this weekend at No. 2 with $6.9M on 2,660 screens for 6% over Annabelle. Indonesia scored a No. 1 debut of $5M on 1,095 screens to best all Conjuring titles save The Nun. India follows with $2.6M on $1,650 screens to more than double Annabelle. Russia came in at a No. 1 start of $2.5M on 1,880 to beat all Conjuring pics outside Nun. Rounding out the Top 5 is Malaysia and a No. 1 bow of $2.2M from 480 screens and on par with Creation.
Further market totals to date include Vietnam ($1.9M), Brazil ($1.8M), Thailand ($1.6M), Taiwan ($1.5M), Colombia ($1.4M) and Australia ($1.4M). Italy and Germany are next to bow in the coming frame.
YESTERDAY


Danny Boyle's Beatles-inspired fantasy opened in 30 overseas markets this session, grossing $7.7M for a global debut of $24.7M. On a like-for-like basis, the start is in line with Me Before You and above The Best Exotic Marigold Hotel (+18%), The Intern(+31%) and About Time (+67%).
Scriped by Richard Curtis and starring Himesh Patel and Lily James, the Universal/Working Title music romance was No. 2 in the UK where Toy Story 4 is dominating. The film bowed to $2.8M at 642 locations to land Boyle's 3rd best start ever and track in line with Marigold Hotel and James-starrer Baby Driver. The actors and Boyle recently appeared on The Graham Norton Show while a London premiere was held the same week that European exhibitors got a sneak of the movie at CineEurope.
Australia was the next best bow with $2.52M at No. 2 and from 276 sites. This is the biggest opening for Boyle and tracking in line with Bridget Jones's Baby and above La La Land.
In the Netherlands, which has been suffering from the heatwave, the film was No. 3 with $419K from 149 locations, also tracking above La La Land and Curtis' About Time.
The film fared well versus its comps in Europe, though all play was affected this weekend by the sky-high mercury. There are many markets still on deck for the counterprogrammer to summer's mega-tentpoles. They include France, Spain, Germany, China, Brazil, Mexico, Russia, Korea, Italy and Japan. Korea, where Curtis' movies over-index, will be one to keep an eye on in September.
HOLDOVERS/EXPANSIONS
TOY STORY 4


In its sophomore session, Disney/Pixar's fourquel packed another $80.6M into the toy chest, bringing the offshore cume to $259.6M and global to $496.5M after just 11 days. This weekend added 7 international markets including some of those hit hardest by the heatwave. Nevertheless, Forky was top toy in each.
In France, the No. 1 start was $7M for the5th best Pixar start and the best of the TSfranchise. Overall, Europe dipped 37% from opening. Russia and Spain dipped 26% each and the UK saw a 46% drop from a record-setting debut.
Asia Pacific fell by 38% with strong holds in Philippines (-15%), Australia (-19%), Taiwan (-21%), Malaysia (-22%), Korea (-29%), Indonesia (-34%), Vietnam (-42%) and Thailand (-48%).
Latin America, which saw a huge opening last frame dropped by 46% in the current session. It maintained the No. 1 spot across the region.
Still on deck for Toy Story 4, which should continue to see good holds over the next few weeks, are Japan in July and Germany in August.
Currently, the Top 5 markets are Mexico ($49.5M), UK ($33M), China ($24.3M), Korea ($16.7M) and Brazil ($15.9M).
ALADDDIN


Through the 6th weekend of play, Disney's Aladdin has now grossed $568.3Minternationally and $874.2M globally. The surprise of the summer so far, the Will Smith-starrer filled its lamp with another $24.5M this session in 55 material offshore markets. The overall drop was just 30%.
In Europe, there were increases and soft drops in some markets including Finland (+106%), France (-9%), Israel (-20%), Spain (-28%), Russia (-31%) and UK (-49%). Asia overall dipped by 18% with Koreaunable to get enough of the genie. Aladdin retook the No. 1 spot from stablemate Toy Story 4 there and has now grossed over $60M. Japan also saw a light slip (-14%) and is nearing $67M. Latin America's regional gross is $86M.
The Top 5 are Japan ($66.6M), Korea ($60.2M), China ($53.3M), UK ($42.8M) and Mexico ($32.1M).
THE SECRET LIFE OF PETS 2


As the long rollout continues on Illunimation/Universal's sequel, 11 new markets joined the menagerie this weekend for an additional $11.8M. The overseas cume is now $91.8M for $223M worldwide. Among the new hubs Germany was tops with $2.2M for No. 1 from 720 locations and tracking in line with Coco. Brazil, where competition is fierce, bowed to No. 3 with $1.83M at 676, also in line with Coco. Poland (amid heatwave temperatures) grossed $1.29M at No. 1 from 239 sites to track above Coco and Despicable Me 2.
The top holdover hub was Australia with a 28% drop in the sophomore frame for a $5.5M cume to date. Russia continues to lead all play with $23.3M so far, followed by the UK at $22.6M.
The coming weekend adds China (the first Pets did about $58M — unadjusted — in its full run there in 2016) as well as some Euro and Latin American markets. Japan, Korea, France, Spain and Mexico are still to come in July and August.
MEN IN BLACK: INTERNATIONAL
Men In Black: International saw a 62% drop this session, adding $11.5M. The offshore cume is now $154M and the global total through three frames is $219M. Italy is still on deck July 25 and the news is much rosier for Sony in the coming weeks with Spider-Man: Far From Home.
JOHN WICK: CHAPTER 3 – PARABELLUM


Lionsgate's super-assassin crossed the three-century mark at the global box office this weekend, now clocking $306.3M through Sunday. The current split is $161.3Mdomestic and $142.3M at the international box office. The offshore weekend in 77 markets this frame was $6.6M including a strong start in Korea that bested John Wick 2's lifetime by 251%. The Top 5 markets to date are the UK ($13.2M), Germany ($10.9M), Australia ($10.7M), Russia ($7.5M) and Mexico ($7.3M).
UPDATED CUMES/NOTABLES


Rocketman (PAR): $2.6M intl weekend (47 markets); $81.4M intl cume ($165.6M global)
Dark Phoenix (DIS/FOX): $3.4M intl weekend (43 markets); $181.1M intl cume ($244.7M global)
Godzilla: King Of The Monsters (WB): $2.4M intl weekend (73 markets); $270.4M intl cume ($376.9M global)
Avengers: Endgame (DIS): $2.3M intl weekend (40 markets); $1.92B intl cume ($2.76B global)
The Hustle (UNI): $1.8M intl weekend (24 markets); $40.6M intl cume ($50.2M including non-Uni markets/$85.4M global)
A Dog's Journey (UNI): $1.3M intl weekend (6 markets); $10.1M intl cume ($42.9M including non-Uni markets/$66.2M global)
The Dead Don't Die (UNI): $300K intl weekend (9 markets); $4.4M intl cume ($10.3M global)