To explain where the idea for the Nintendo Switch came from, Yoshiaki Koizumi puts his hand into his jacket pocket and pulls out a Nintendo-themed playing card, placing it on the coffee table in front of him. Look back 127 years, he continues, to Nintendo's founding in September 1889. "Nintendo made playing cards," says Koizumi, 48. As deputy general manager of the company's entertainment planning and development division, he's been one of the leading creative influences behind the Switch. "Playing cards are something that you enjoy eye-to-eye with another person," he says. "Think about a deck of cards. It's something that is small, many of the games have rules that are easy to learn and people of all ages can enjoy playing them together." For a deck of playing cards, his thought experiment goes, substitute a games console. The secret to Nintendo's innovation, he concludes, is simple: "It's not necessarily about technology."
Nintendo's philosophy for making games has often been counterintuitively low-tech. "A lot of the history of gameplay, up until this point, has been people looking at a screen, not necessarily seeing the facial expression and the body language of the person next to them," says Koizumi. "So that became a very important, fundamental concept for us moving forwards on Switch: how to preserve that, how to bring people back to that kind of experience." Whenever he attempts to explain Nintendo's thinking with Switch, and its approach to game development in general, Koizumi comes back to playing cards: play anytime, anywhere, with anyone and always see how they react. "If I were to put it into incredibly simplified terms, we don't necessarily view this as a gaming machine, we view this as a tool for play," adds Shinya Takahashi, 53, director and general manager on the same team as Koizumi. The word "play" – and its distance from the word technology – crops up a lot at Nintendo. In an interview with Edge magazine for the GameCube's launch in 2001, Nintendo's late president Satoru Iwata said the company's ambition with its software was to "satisfy people's need to be happy." The GameCube sold 21.74 million units to the PlayStation 2's 155 million. The Wii, Nintendo's next console, sold 101 million units to the PlayStation 3's eighty-five million.
I meet Koizumi and Takahashi in a hotel room in South Kensington, London. Both sit on a sofa flanked by oversized, floral cushions, attentively listening to my questions in English before turning to an interpreter. Koizumi is the more smartly dressed of the two, the fringe of his hair swept carefully to one side, a Nintendo Switch lapel badge pinned proudly on his grey jacket. Takahashi, livelier and more excitable, fixes me with his gaze whenever I speak. "You've both worked for Nintendo for a couple of decades, is that right?" I ask. "Twenty-eight years," says Takahashi, pausing to do some mental arithmetic. "Nineteen-eighty-nine!" he adds. "Nineteen-ninety-one," chirps the ordinarily straight-faced Koizumi.
Takahashi and Koizumi's curriculum vitaes read like a birthday wish list from my childhood. One of Takahashi's first jobs was as a designer on Wave Race 64, he was also producer on Mario Kart: Double Dash!! and general producer on Dr. Kawashima's Brain Training. Koizumi was assistant director of Super Mario 64; director of Zelda: Ocarina of Time; Majora's Mask; Super Mario Sunshine; Donkey Kong Jungle Beat; Super Mario Galaxy; Super Mario Galaxy 2; Super Mario 3D Land and Super Mario 3D World. The pair, with their combined half-century of service, have played a key role in shaping the company's next big hope.
The joyous idiosyncrasies in the Nintendo games I played, and still play, are what make them stand out. Accompanied by countless others, I am the intrepid explorer in the worlds it creates. In 1997 I glided through the serene landscapes of Pilotwings 64, watching the Space Shuttle take off from a virtual Cape Canaveral on Little States Island. My childhood friends and I raced around the upper deck of Block Fort in Mario Kart 64's Battle Mode. Galloping across the fields of Hyrule in The Legend of Zelda: Ocarina of Time, it felt like I was venturing out alone against an insurmountable enemy. At their best, Nintendo's games have always had an intangible, brilliant weirdness. That happy knack has a lot to do with heritage, which is more keenly felt at Nintendo than other games companies. For Takahashi, who has spent his entire adult life building on that heritage, the feeling of pride is clear. His favourite moment as a developer remains the time he saw someone playing a demo of the first game he had worked on, a little-known SNES title released only in Japan. "To see their reaction, to see the joy on their face," he says. "That's a memory that I'll always keep."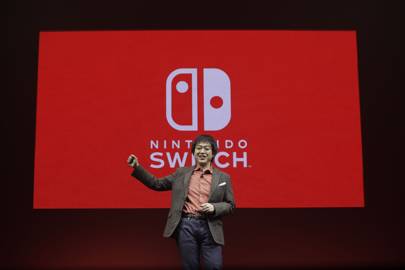 The launch of Switch comes at a tumultuous time for Nintendo. Its debut smartphone game, Super Mario Run, was released in December 2016, five years after Iwata warned that doing so would cause Nintendo to "cease to be Nintendo". In March 2015, as the company announced plans to develop games for smartphones, Iwata admitted it would be "a waste" not to. "It is structurally the same as when Nintendo, which was founded 125 years ago when there were no TVs, started to aggressively take advantage of TV as a communication channel."
In 2014, it was Iwata, in collaboration with The Pokémon Company's Tsunekazu Ishihara, who conceived of the idea of Pokémon Go, inspired by a Pokémon-themed April Fools' Day gag on Google Maps. Launched on July 6, 2016, the game now holds the record for most revenue grossed by a mobile game in its first month ($206.5 million), most downloaded mobile game in its first month (130 million), most mobile app store charts topped simultaneously (70) and the fastest mobile game to gross $100 million (20 days). Nintendo owns a thirty-two per cent stake in the Pokémon franchise and an undisclosed stake in developer Niantic. Something, somewhere, had changed Iwata's mind.
Iwata passed away in July 2015 at the age of 55. He wasn't around to admire the record-breaking success of his collaboration, but his way of thinking still dominates Nintendo. "On my business card," he said during a speech at the Game Developers Conference in 2005, "I am a corporate president. In my mind, I am a game developer. But, in my heart, I am a gamer." Iwata, like Mario-creator Shigeru Miyamoto, composer Koji Kondo, GameBoy-inventor Gunpei Yokoi, Takahashi, Koizumi and many others, all got what it meant, and still means, to work for Nintendo. "Typically, you go to a programmer and tell them what you, as a designer, want to do. They then tell you all the reasons why you can't do that," Shigeru Miyamoto told The New Yorker in December 2016. "Mr. Iwata was different. He felt it would be shameful for him to say something was impossible." It's a cliché that listlessly flops out the mouths of many company executives, but Iwata's sentiment feels different – and it all rests on the word "shameful".
For Nintendo's rivals, achieving the impossible is oft-linked to rapid growth and big profits. Nintendo is, at times, confusingly different. In a speech delivered in 2011, Iwata drew a clear line between his company and its smartphone competitors. "Their goal is just to gather as much software as possible, because quantity is what makes the money flow." Nintendo, he implied, was different. That same year, Iwata finished the point he had started: "I believe my responsibility is not to short-term profits, but to Nintendo's mid-and-long-term competitive strength." It's an attitude that helps explain the company's stoic response to its failures: Nintendo had expected to sell 100 million units of its Wii U console, in the end it shifted closer to thirteen million. The Switch must do better.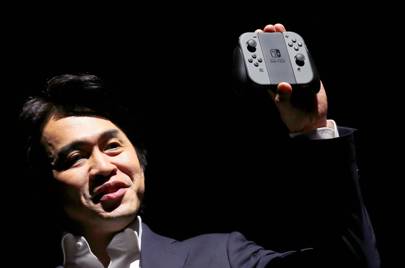 When it launches on March 3, the Switch will cost £280. Nintendo is releasing the two major day-one titles – 1-2-Switch and The Legend of Zelda: Breath of the Wild – with Konami's Super Bomberman R, Activision's Skylanders: Imaginators and Ubisoft's Just Dance 2017 completing the line-up. Before the end of 2017, Nintendo will add Mario Kart 8 Deluxe, Splatoon 2, Super Mario Odyssey and ARMS, a new, fast-paced fighting game that makes full-use of the innovative Joy-Con. Fire Emblem Warriors, Xenoblade Chronicles 2, Sonic Mania and a clutch of other high-profile titles from third-parties will also be available before the year is out. As ever, Nintendo will be hoping a small selection of big names can help lift an otherwise lacklustre line-up.
In recent generations, Nintendo's home console successes have tended to come in fits and starts: the Nintendo 64 sold relatively well, the GameCube poorly, the Wii was a runaway success, the Wii U a runaway failure. But, from Wii to Wii U to Switch, Nintendo's thinking has become clearer. The Wii, with its intuitive motion controls, opened up play to everyone, while the Wii U's tablet-like controller laid the groundwork for the Switch's far more polished, portable design. Takahashi describes it as a "unified system", a blend of handheld and home console, finally made possible by the technology available to Nintendo. "It just so happened that various technologies were coming together," adds Koizumi "And we saw that we could combine them together to solve exactly that problem. And that, I think, was the real inception of the Switch."
The careers of Koizumi and Takahashi, both arts graduates who have worked for Nintendo their entire adult lives, are typical for a company whose employees pride themselves on lifelong devotion. "We started just a few years before the N64 era," says Takahashi. "When we were making that shift from 2D to 3D gaming with the N64, we were two of the main individuals within Nintendo who were really leading the designers and helping to draw them out of that 2D world and into 3D game design," he adds, pausing thoughtfully. "To put it more simply, the two of us like doing new things."
While much of the press attention, and Nintendo's own marketing, has focussed on how the Switch is both a handheld and home console, Takahashi seems more enthused about the new Joy-Con controllers. The palm-sized red and blue batons, packed with accelerometers, gyro sensors, infrared cameras and no fewer than 22 buttons, promise both confusion and potential. Takahashi asks if I've played a 1-2-Switch minigame where you have to guess the number of balls inside the controller, an impressively realistic sensation created using HD rumble, another feature squeezed into the palm-sized Joy-Cons. It's a seemingly inconsequential feature that, for Takahashi, could change the way people play games. For the first time, players are asked to play a game where they're not meant to look at the screen. It's a very 'Nintendo' idea.
Takahashi asks what other 1-2-Switch minigames I've played. I reply while miming milking a cow. He laughs enthusiastically. "You seem like you liked that," he says, laughing again. Whether guessing the number of balls, milking a cow, having a Wild West shootout or unlocking a safe, all the minigames in 1-2-Switch have one thing in common: you look at the person you're playing against, not the screen. "If you play 1-2-Switch you get a sense for what we were trying to achieve with the hardware," Takahashi continues. "We didn't start with the idea of trying to create an integrated device that combined a home console with a handheld. Instead, we started with the idea of wanting to create a device that had a versatility of play that could appeal to as broad of an audience as possible."
Nintendo's games have always had the ability to turn us all into children again. When someone gets nostalgic about their childhood, I tend to warp-pipe back to a time of leaping plumbers, drifting go-karts and Pikachu electrocuting Captain Falcon. And as with any great creative work, a great game needs a soul. "Those of us who are working on the software side are always worried about one thing: how to get players to empathise with what they're seeing in the game," says Koizumi when I ask about the role of emotion in Nintendo's games. "We're always looking for ways to make different elements of the game the exact balance of surprise and empathy, which kind of play opposite one another to create that experience."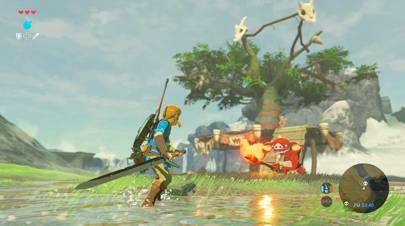 For Nintendo, nowhere does that balance play out more than in Zelda, a franchise Koizumi has worked on for nearly two decades. So what can people expect from the latest instalment? "I think you're going to find a lot of elements that really bring it back to the very first Zelda game, in the sense that people will find puzzles as they explore and get to solve them," he says, referring to Breath of the Wild. Previously, Link's world was alive to a point, now it teems with weapons, secrets and foes. "It also brings in some new elements like this idea of a wild, natural world surrounding you and challenging you to survive," explains Koizumi. That battle to survive is not just at the core of Zelda, but also a challenge Nintendo must face as it approaches the launch of its latest console. "In that sense this Zelda has a story to it, of course," says Koizumi. "But the adventure is bigger than that, it's about the entire world as well. And that world is very wild."
Despite the commercial ups and downs, Nintendo continues to innovate and surprise. "The source of our creativity, really, for the past thirty-to-forty years has come from the fact that we don't look at what other companies are doing and try to replicate their success," says Takahashi. "The core of Nintendo culture is this feeling that if all we do is replicate somebody else's success, we'll never actually achieve the same level of success that they had." That, continues Takahashi, is the reason for Nintendo's reputation as a highly-secretive company. "We're so busy thinking about things that other people aren't doing," he says, half-smiling. "We don't want to tell people what we're thinking about because then other people might do it."
Nintendo Switch isn't just a console, it's a 127-year saga that began with a deck of cards